Card templates for kids; add personalized text, edit and print cards online for free
.


Printable card with Japan anime character, anime girl, green hair, hairband, cute top, Japan anime girl
.

The card makers allow you to add your own title text and personalized message. You can make a birthday card, thank you card, get well soon card, congratulations card or anything you'd like. Add your text, make any changes you'd like to the lettering and layout, and then hit "print".

To make envelopes, use the envelope template. You can make a blank evelope or choose from styles to match this card.

To print your Japanese anime card, click the print button at the top left of the anime greeting card maker. There are options for editing your comic card. You can change the text on the card by clicking on it and personalizing the card to make a Japanese cosplay party invitation, Japanese anime birthday card or card for any cosplay event.

There are 2 additional text areas that you can use. These have been left blank for now, but if you click on the left inside panel, you can add text there, drag that text to another location and edit as above. There is also a text field over the card cover, so you can add a personalized message to the anime card template if you'd like.

Make as many copies of your anime invite or card as you need and remember there are many more anime greeting card templates on the Japanese anime cards page.

If you are looking for something different, here are some of the other templates from this theme: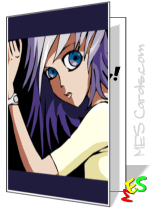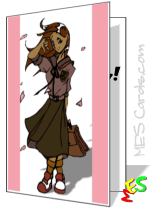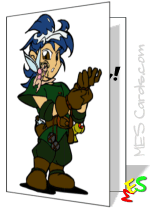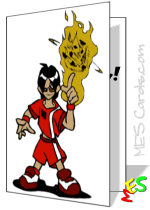 Other card options - There are 1,000s of card templates on this site. Check the main page for a full listing of possible greeting card templates: free printable cards.