Personalized Christmas cards with a traditional holiday photo on the cover
. Use the sample Christmas card wording that comes with card or erase it and add your own.


Printable 2019 Christmas tree photo card with christmas lights, twinkling, Christmas tree ornaments, soft glow, holiday greeting
.

The warm holiday glow of the Christmas tree is a found memory for most. This twinkling Christmas light photo captures the holiday spirit and adds a small Christmas wish at the bottom. A great card template for parents, grandparents and kids.

Printing - the templates let you preview all changes online before you decide to print. Once you are ready, you need to click the 'print' button in the right hand menu. This starts the printing process and your operating system should prompt you through the rest of the printing process. Some system will start printing right away, so make sure you have the correct paper loaded in your printer.

Editing the Card Template - You can make small cards or a large Christmas card using these templates. To change the card layout, click '1/2 fold' in the menu at the top.

You can add text inside the card, both on the left and right side. If there is sample text, you can click on that and start editing. Otherwise, just click where you'd like to add something and a curser should appear. Start typing and watch your message come to life.

Further edit the card layout by moving the messages around, changing the text size and font. The templates come with 10+ fonts to choose from. Change these using the 'select font' option in the top menu and choose a style to match your card. Once you've made your changes, you are ready to print.

For more designs in this theme click on one of the previews below - 8 designs in all: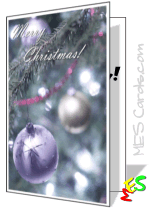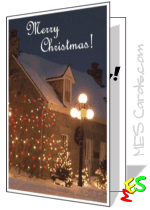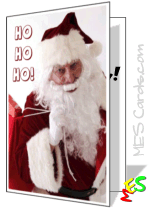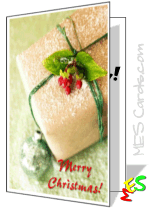 Printable Christmas cards with your photo - from Print With My Pic
There are 5x7 Christmas party invitations, Christmas picture frames you can print and more.