Ho, Ho, Hold on there a minute. This card isn't for everybody. Be Careful what you do with a funny card and make sure your audience can take a joke. That being said, this is a funny card for single women, siblings (possibly), and adult female friends.


'I originally thought 'nice' but I ordered you this and big ol' bag of naughty.'


Funny Christmas card for adults with a handsome man, Christmas present, humorous quote on card written on the cover
.
Questionably inappropriate cards for female friends, cards for women to give other women, and funny card for adults to give friends
. This probably isn't a good card for Mom.

Printing Your Card - the templates let you see all edits online before you print. The card will print exactly like you see on the screen. So, if you are ready, click the 'print' icon at the top of the card application. This starts the printing process and you should get a print window that will guide you through the rest of the process.

Using the Card Application - The default layout is a small folding card, but you can change this in the menu bar across the top. Select '1/2 fold for a larger sized card, but be aware that you can't write directly inside the card with this feature.

You can add your own message inside the card, both on the left and right side. If there is sample text, you can click on that and edit as you'd like. Otherwise, just click where you'd like to add text and a curser should appear. Once you see the curser, you can start typing.

Further adjust the card layout by moving the text around, changing the size and font. You can change the font by clicking on the 'font' option on the right. After you make your changes, you can print your personalized card.

For more humorous cards click on one of the previews below - 10 designs in all: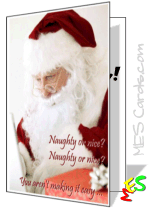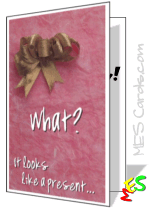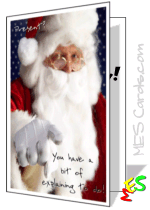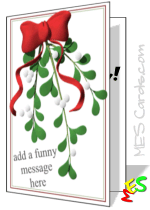 Printable Christmas cards with your photo - from Print With My Pic
There are printable Christmas party invitations, Christmas picture frames to print and more.