Printable cards for adults - Father's Day card template with sexy woman half covered by flowers and snarky comment
.

You can edit and personalize this humorous card template with your own message for your father and title greeting. Make a funny card for Dad, and once you've made all of your changes, click the print button. Make matching envelope for this card or select a different card.

To make envelopes for this card, use the envelope template. You can make a blank evelope or choose from styles that match this card.

To print your card, click the purple print button at the top left of the card maker. You can add a personalized message if you'd like. Cange the sample wording on the card by clicking on it and add your own personalized message to the card. Change the font and adjust the layout if you'd like.

Print as many cards as you need. Print a card for your dad, granddad, a friend, brother, but maybe not your boss :). You can find more card templates on the cards for men index.



More Father's Day printables:

Add your own photo to certificates:

Add a photo to printable Father's Day cards:

Father's Day photo frames - Add your own custom text message and move the text around on the template to design the perfect Father's Day picture frame to give as a Father's Day gift for dad, granddad, step-dad or to a friend that's a dad. The site is free and there's nothing to download.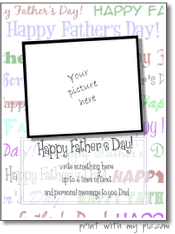 Printable Father's Day photo frames: add a photo to a Father's Day photo template and print full page like a poster or print small versions on 4x6 or 5x7 photo paper.