Online greeting card maker for Fourth of July cards or 2018 summer party invitations
.


Make your own 4th of July cards free online with fireworks image, purple, green, yellow, Happy 4th of July greeting
The card maker has several different Fourth of July card cover templates to choose from. Select the menu option at any time to change to a different cover.
How to print and make envelopes for this holiday card - there is a matching envelope maker. You can make a plain evelope or choose from styles that match this USA card. Personalize the envelopes online with your information, names and addresses, or print blank envelopes to personalize off-line.
Printing the card - to print, click the "print" icon at the top left of the maker. With each, you have the option of making a quarter-fold card, or a half-fold card. You'll find that option at the top of the Fourth of July card makers.
Personalizing a printable holiday card - You can customize any of the wording by clicking on the sample message. Add a personalized USA message or delete any text you don't want to make blank patriotic cards. If you scroll over the top of any text spot, you'll see a message control bar. That has options for moving the text around on the 4th of July card, rotating your personalized wording, reducing the size, and enlarging the text. At the top of the maker, you'll see an option labeled 'font'. If you click on that, you can scroll through 7 different font options for your free printable USA cards.
If you are looking for a different design, here are some of the other Independence Day templates from this theme: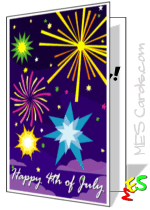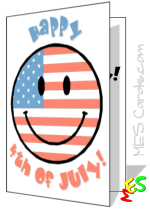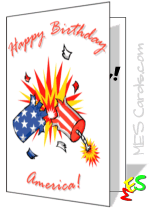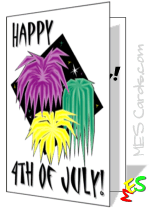 Other card styles - There are 1,000s of printable cards on this site. Check the main page for a full listing of possible templates: free printable cards.