Make spooky Halloween party supplies at home. Print cards and invitations with personalized text, edit the sample Halloween wording, and print for free
.


Print Halloween cards and greeting card templates with a graveyard scene, Grim Reaper stalking prey, death, tombstones, scary costume design
.

This is a free online card template to make a Halloween birthday card, haunted house announcement or scary party invitations. Edit the card and layout to make a card for any haunted purpose.

Print and make envelopes to match these cards - there is a matching envelope template. You can select a background that matches your card design or choose a plain white envelope pattern. Personalize the envelopes online with any text you'd like on the front of the envelope.

Print your card - to print your fun or spooky card, click the "print" option in the top left of the card maker. At the top, there is menu list in gray with other options for card layouts and removing the fold and cut lines as well.

Personalize your card - Each of the designs lets you edit the sample text by clicking on the card directly. Add a Happy Halloween message inside the card or delete any text you don't want. If you scroll over the top section of any text area, you'll see a text-field control bar. That has options for moving the text around on the card, rotating the text, reducing the size, and enlarging the message. At the top of the maker, you'll see an option for 'font'. If you click on that, you can click through 7 different styles to select the one that best suits your desired use.

If you want something different, take a look at a few other photo card designs from this theme: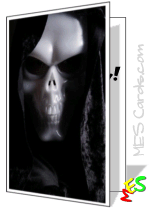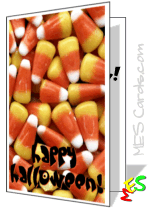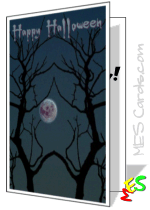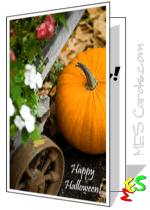 More cards on the main page - There are 1,000s of greeting card templates you can choose from. See the main page for a full listing of card designs you can use: printable cards.