Make your own Thanksgiving cards to print
. Add a personalized message, edit the sample Thanksgiving wording, and print as many as you need.


Free 2018 Thanksgiving card to print with Pilgrims, husband and wife, turkey, Thanksgiving dinner, country scene, happy holidays saying on cover
This cute Thanksgiving card with a Puritan couple on the front can be used as a Thank You card, dinner invite for family, or send a Thanksgiving card when you can't be there. This classic Thanksgiving illustration will work well for any ocassion.
How to make Thanksgiving envelopes, use the envelope template. You can make a blank evelope or choose from styles that match this theme.
How to print a card or invitation - to print your card, click the "print" icon at the top left of the card maker. With each card template, you have the option of making a quarter-fold card, or a half-fold card. You'll find that option at the top of the greeting card makers.
How to personalize your Thanksgiving card - You can customize any of the card text by clicking on the sample wording. Add a personalized message or delete any text you don't want to make blank cards. If you scroll over the top section of any text area, you'll see a text-field control bar. That has options for moving the text around on the card, rotating your personalized wording, reducing the size, and enlarging the text. At the top of the maker, you'll see an option labeled 'font'. If you click on that, you can scroll through 7 different font options for your free printable cards.
Looking for something different? Here are some other the other Thanksgiving templates you can print: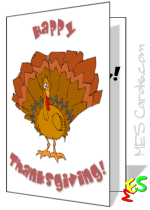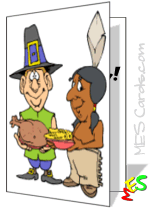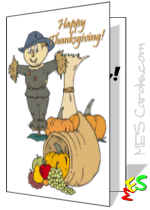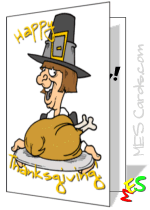 More printable Thanksgiving printables and templates
Make your own Thanksgiving certificates to print for dinner parties and Thanksgiving Day school events: