Card 1:


love potion card

Card 2:


lovely bear card

card 1:

card 2:

Card 3:


cute heart background

Card 4:


simple box of chocolates and rose

card 3:

card 4:

Card 5:


simple candy hearts card

Card 6:


elegant red rose

card 5:

card 6:

Card 7:


discrete Valentine's

Card 8:


"Be careful out there!"

card 7:

card 8:

Card 9:


"Gotcha"

Card 10:


simple cupid card with a seal

card 9:

card 10:

Card 11:


"Be mine!" heart character

Card 12:


cute bear with heart balloons

card 11:

card 12:

Create envelopes for these cards:

There are blank envelopes. If you don't want any text, just leave all the fields blank, but you can add names, addresses, and a short message to the envelopes.

The 'plain' envelope is square, easy to cut and easy to glue together.

The 'fancy' envelope is rounded and angled. It's a bit more difficult to cut out and glue together, but it looks much better.
Print Valentine's Day cards, 4 cards per page. Use them as
printable Valentine's Day cards for parties and Valentine's Day class card exchanges
. If you leave all the fields blank, you can print blank Valentine's card templates to personalize off-line.

More Valentine's Day Printables: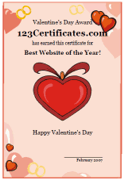 Valentine's Day Award Certificates You will find 20+ different Valentine's Day certificates that can also be used as party invitations or Valentine's Day cards!
Valentine's Day flashcards: flashcards, printable games, crosswords, handouts, worksheets, and word searches
Free Valentine's Day worksheets - make reading, writing worksheets, crosswords, word searches, bingo boards, board games, dice, and more! With images and/or text!
Valentine's Day stickers and sticker charts
Valentine's Day Coloring pages: 25 different coloring sheets with Valentine's images.