Free love and valentine's day card templates for kids, a boyfriend, a girlfriend, friends or just make a cute card for your husband or wife. Take a look at the previews. If you like one then make it up. 5 pages of cards in all.
Card 1:


cute hearts

Card 2:


'Loving you always'

Card 3:


butterfly card with hearts

Card 4:


roses and hearts

Card 5:


'I luv you' card

Card 6:


'Watch out!' for cupid

Card 7:


I've been hit!

Card 8:


cats in love

These cute Valentine's Day cards can be used for just about anybody. Use them as
2019 Valentine's day cards or as Valentine's party invitations
. Make a great looking card for a boyfriend, girlfriend, husband, wife, or just a friend. Print a blank valentine and decide what to do with it later. They can also be used as
love, 'I love you' cards, boyfriend, or girlfriend cards, anniversary cards, or as love-theme birthday cards
. Choose from several different card makers and print your own personalized Valentine card. You can also print matching Valentine's stationery, such as envelopes and other options below.



More Valentine's Day Printables: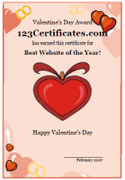 Valentine's Day Award Certificates You will find 20+ different Valentine's Day certificates that can also be used as party invitations or Valentine's Day cards!
Valentine's Day Coloring sheets: 25 different coloring sheets with Valentine's images.


For more Valentine's Day printables, see the Valentine's Day Printables Guide.