Printable cards for kids to make birthday cards, party invitation templates, kids' stationery sets, and 2019 holiday cards to print
. These free online card makers can be used to make any type of card. The card covers can be personalized with a greeting of your choice, like 'Happy birthday!' or 'Congratulations!' Add your own text inside the cards, change the layout, and print for free. There are many ready to print options available as well.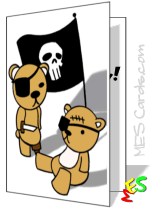 Pirate Cards for Kids - Arrg! Make printable pirate theme birthday party supplies. The cards have images of buccaneers, skeletons, Jolly Roger pirate flag, treasure chests, pirate ships and the like. Add a message to the front, print matching envelopes and add these to presents or just send the card. It sure beats swabbing the deck!
8 cards in this set with 8 envelope templates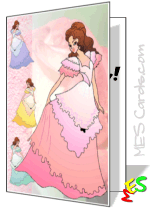 Princess Cards for Kids - with these princess templates, you can make any type of card you'd like. They have sample a sample birthday message, but type over the text with anything you'd like and make a princess birthday card, thank you card, get well soon or holiday card. Move your personalized message around on the card, change the font and make the perfect princess stationery set for kids or adults.
8 styles with matching envelopes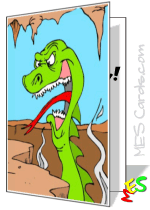 Dinosaur Cards for Kids - a great set of cards for any dinosaur fan. You'll find T-Rex cards, stegosaurus, brachiosaurus, pteranodon, fossil cards and more. Whether you have a fan of the Jurassic or Mesozoic Era, there should be a dinosaur template for you. There are some cute dinosaur cards and also some slightly aggressive looking beasts as well.
16 cards and envelopes for this set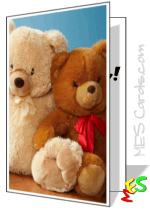 Teddy Bear Cards - with photos of real teddy bears, cute illustrations, 3D graphics and other fun teddybear images you can make the perfect printable stationery set for children. Many of the designs have open space on the cover where you can write a personalized message, add the child's name to the card as well if you'd like. You can make a large card or small folding card using the free online templates.
8 designs and matching stationery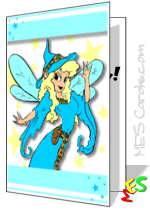 Fairy Cards for Kids - These cute fairy templates have floral print backgrounds, fairy princess styles, forest fairy, flower, water and wind type illustrations. There are also some fantasy styles included. So, add these as printable fairy birthday party supplies or just bring them to the next fairy theme party you attend. Personalize the cover with your own message or holiday greeting. Use the sample text or print blank cards to personalize off line.
8 templates with matching envelopes to print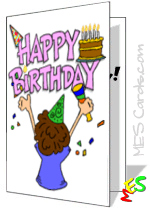 Birthday Cards for Kids - There are birthday themed card templates you can choose from as well. Many of the covers have borders and designs that kids love. There are some photo image designs as well for a less childish feel if you are printing cards for teens or older children.
24 card templates and envelopes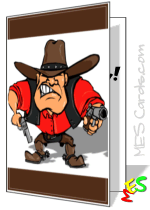 Cowboy Cards for Kids - Rodeo, outlaw or sheriff, if you are looking for cowboy birthday cards or western stationery sets, these are the cards for you. There are some rough and tough designs, bronco riders, and some fun templates for little cowboys as well. Using the free card maker or any of the ready-print card makers, you can personalize and design a card in full, or just print a card that's all ready to go!
8 templates for card sets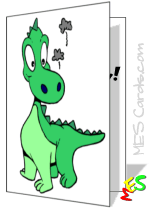 Dragon Cards for Kids - These templates have cute dragons, scary, dark dragons, dragon trainers, Chinese dragons, and smoking and fire-breathing dragons. If you are into the recent cartoon style or prefer a more menacing looking creature, you'll be able to find it in this set. Use these to make dragon birthday cards for kid or just as thank you cards, congratulations cars and even Christmas cards.
8 card templates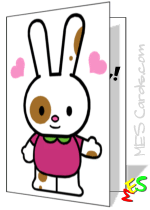 Cute Cards for Kids - if you need a huge dose of cute in your life, check out these. These make great cards for kindergarten and preschool children, but certain they can be used with older children as well. Add your own ideas to the card cover. There is a text field you can click on to add 'Happy Birthday, Emma!' or 'You did it!' right to the card.
8 card templates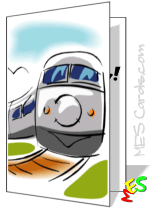 Train Cards for Kids - Choo! Choo! or electric these cards have different designs both traditional and new age. Choose a classic steam engine or a high speed bullet train. There are animated characters or more realistic looking designs to choose from. Whether it's a train theme birthday party invitation or a simple Get Well Soon card for kids, you should be on track with these styles.
8 designs and matching envelopes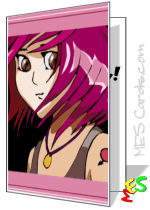 Anime Cards for Kids - do you have anime fans? Try these teen anime card templates. Looks like they're fresh out of Japan. Add your own message to the cover, make a fun speech bubble type birthday quote. Each card has a matching anime theme stationery set and you can mix and match them to create unique and exciting card sets.
16 anime templates in all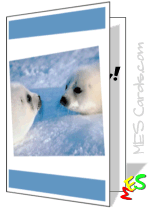 Animal and Wildlife Cards for Kids - There is a large selection of different animal cards on the site. Each of these has the same customization options with each template. Check out some of the options you can choose from: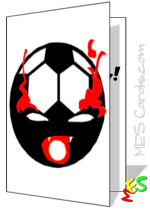 Sports Cards for Kids - There are four different sections with sports greeting card templates. Each sport has 2 pages of cards, one with fun illustrations and another with photo templates on the cover. You can add a players name, use these as celebration cards or just for your favorite sports fan's birthday.
MES Cards! contains printable greeting card makers for birthday cards, party invitations, holidays, graduation and more. Above are some of the card templates on the site. Check the main page for a full listing off all of the cards kids can print for free online. If you can't find a card to match your birthday party theme, let me know. I'm always happy to add more templates to the site.
new! add your picture to cards, invitations, announcements, and more!



Print With My Pic - add your picture to photo cards, calendars, invitations and more!